The Nutcracker
Showtimes
12/20:
7:15pm
12/21:
2:15pm
7:15pm
12/22:
2:15pm
The Nutcracker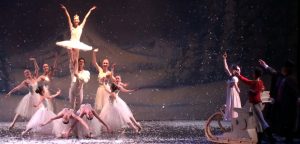 December 20th – 22nd, 2019
Whether you're seeing it again or for the first time, The Nutcracker will capture your imagination and transport you to a magical world of brave toy soldiers and dancing snowflakes. Follow Clara as she embarks on her journey filled with colorful characters, breathtaking costumes, and majestic scenery. From the captivating dance of the Sugar Plum Fairy to the iconic snow scene, this classical ballet set to the beloved music of Tchaikovsky continues to enthrall audiences of all ages.
Based on E.T.A. Hoffman's dreamlike novella, The Nutcracker brings to life a cast of enchanted characters, from the evil Mouse King to the charming Nutcracker Prince. Slip away into the warm drawing room of the Silberhaus family and watch as Clara's surroundings transform before your eyes.
The Nutcracker offers an opportunity to share the magic of the holidays with those you love. Create an annual tradition with family and friends.
Nutcracker Friday December 20, at 7:15pm Saturday, December 21 at 2:15pm and at 7:15pm and Sunday December 22 at 2:15pm with amazing guest artists at Paradise Performing Arts Center. Reserved seating $20.00 for all ages General seating $15.00 for adults $ 12.00 for children under the age of 16. The first Nutcracker at PPAC after the Camp fire we are recovering stronger than ever Come and enjoy this ageless tradition!